Life Sucks
By
Abel, Jessica
Soria, Gabe
Pleece, Warren
First Second©2008 186pp.
ISBN 978-1-59643-107-2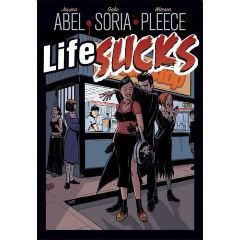 Sometimes, after finishing a book, we put the book down and think, ok, now what? That was sort of the feeling I had when I finished Life Sucks. Dave is a reluctant vampire. He was turned against his will by an opportunistic Lord Radu, who needs cheap (meaning free) labor to make a greater profit. Dave is forced to work the graveyard shift (the deadliest) at Radu's corner bodega, as he is now a vampire slave to Lord Radu (since he was turned by him). Dave hates his life, or rather unlife. Since he refuses to suck on people for blood, he is left weak, unlike the other vampires around. Dave has his eyes on a Goth girl but is up against a much stronger vampire to win her affection. Will Dave succumb and start sucking on humans so he can win Rosa's heart?
The artwork is strangely dull and uninteresting, considering the bold colors. And while the plot should have grabbed me, I think that the unsympathetic characters just sucked the life out of this story. The last two lines (of this review) make it sound like this book is terrible and it's not. I did keep turning the pages. I wondered how Dave would turn outt and if he'd get the girl. I also think that with the popularity of vampire novels/stories (Vampire Kisses by Schreiber and Twilight by Meyers), this should be an easy sell to teens. I'm just wondering if they'll be left as I was when finished reading this book…. "so what?"

While not terribly graphic or violent, this book is suited best for teens and high school libraries.