Savvy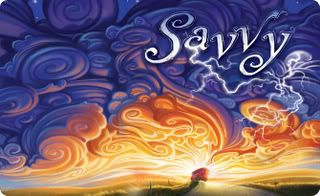 By Law, Ingrid
Dial (An imprint of the Penguin Group) ©May 2008 352pp.
978-0-8037-3306-0
Mibs' family is not like other families. On their 13th birthdays members of the Beaumont family receive their savvy (a sort of magical talent) that potentially wreaks havoc on their life. Her older brother Rocket can create electricity, but be weary of his anger or frustration because he's caused blackouts of an entire city. Fish can start a storm or a hurricane. The hurricane he caused on his 13th birthday forced the Beaumont family to move to the middle of nowhere between Kansas and Nebraska so that he'd be safe to storm and not create too much chaos.
On the eve of her 13th birthday, Mibs' father- who has no savvy- is in a 10-car-pile-up on the highway and is lying in the hospital in a coma. Rocket and Mibs' mother go to the hospital, but the rest of the Beaumont children and their grandfather are left behind in the care of the minister and his wife.
When the minister's well-meaning wife hears that it's Mib's birthday, she decides to throw a birthday party, not realizing that for a Beaumont at age 13 this could spell disaster.
Mibs is eagerly waiting to find out what her savvy is, and in the wake of her father's accident is hoping that it will help wake him from unconsciousness. Instead, havoc begins when Mibs notices a tattoo on Bobbi, the minister's rebellious 16-year-old daughter. It talks to Mibs and seems to tell her what Bobbi is really thinking. That's when Mibs faints. When she wakes up, voices are screaming at her, and all she can think to do is run. She sneaks on a bus hoping it will take her to the hospital. Bobbi and Walter, the minister's son who is crushing on Mibs, follow as do Fish and Mibs youngest brother.
But the bus goes the wrong way and it leads the five teens on the adventure of their lives.
My attention was capture from the first page as Law's lyrical prose sang off the pages. Colorful characters with colorful language, humor, adventure, all rolled up into a rollicking fun read. This book is full of boisterous energy and will surely be a hit with young readers (grades 4-7). A touch of fantasy, lots of realism, and many well-rounded characters.

The book is published by Dial in conjunction with Walden Media. I imagine it will eventually be optioned into a movie and the potential for a fun family film lies within this book.
Cross posted to http://cornerbooks.blogspot.com/

Current Location:

computer desk

Current Mood:

drained

Current Music:

Take It Easy - Bright Eyes