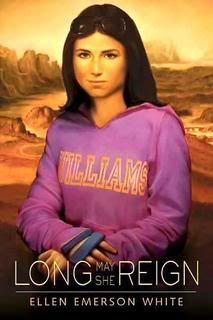 Long May She Reign
by Ellen Emerson White
708pp.©2007
ISBN 978-0-312-3676-1
Reading
Long May She Reign
was like catching up with an old friend.
And just like when you're in the midst of catching up with said friends - you start talking and talking and let everything (from meals, dishes, and other chores) just pile up and left undone. So my house is a mess. There are mounds of unfolded laundry, and stacks of unwashed dishes, but I've completed the 4th book about Meg Powers, daughter of the first woman U.S. President.
Meg Powers was first introduced (I believe) in 1984 in the
President's Daughter
. There were two more books written in the series,
White House Autumn
and
Long Live the Queen
, but the books went out of print. The premise: Meg's mom runs for president and wins. As the stories progress, Meg goes through a lot. Besides the pressure of being a teenager, Meg has secret service agents tagging along behind her, too much notoriety, and of course, she's the president's daughter. There's an assassination attempt on Meg's mom (who thankfully survived) and in the third installment Meg is kidnapped by terrorists.
Long May She Reign
picks up a few months after Meg comes home from the hospital. She's suffering from severe injuries and depression. Her family isn't the same… the tension between her parents is thick. Steven, Meg's brother, is distant and sullen. And Meg is floundering as college was postponed due to her ordeal, but she decides it's time to move on with her life and start college.
College life means extra secret service detail, dorm mates who are somewhat uncomfortable with their new neighbor, classes, boy troubles and high but different expectations – all while Meg is still suffering terribly from her injuries. Meg battles depression, anxiety and an eating disorder. Yet this complicated novel grabs the reader and draws them in. Characters are rich and colorful. Old favorites are back … Preston who's a combination of a father figure and good friend. Beth, Meg's loyal but zany best friend. And of course, Meg's parents and her two brothers… cheerful Neal and the sullen (teenager) Steven. There is also such careful attention to detail, (this is either very well researched or the author's imagination is so vivid she drew a completely believable picture of White House routines and procedures), that it's impossible not to be sucked into this book.
Readers who've never encountered Meg before won't have trouble picking up this book and diving right in. There's enough background deftly woven into the story so that readers can follow along. (Lucky for us, the books are being updated and reissued in July 2008… My copies are on reserve.) Yet,
Long May She Reign
is not a book for reluctant readers. This book is more suited for the mature and thoughtful teens. (Though once the first books are out, which are definitely for reluctant readers, I think this will be an easier sell.) The length of the book will intimidate some as well as the rich SAT words that are sprinkled generously throughout the text. (Yup, I looked words up in the dictionary!)
I'm also torn as to whether or not this book is appropriate for middle school students. (That's what happens when I become passionate about a title: common sense tells me I can't add this to my collection, but I want to share it with my students! **PW recommends it for ages 12+, SLJ grades 9+, VOYA Jr. & Sr. High, and Booklist grades 9-12.) The earlier books, to the best of my recollection and judging from reviews, are perfectly okay. But Meg is now in college. She's living in a co-ed dorm. She meets a boy she really likes. There's frank and open talk about sex. She's been through a severe trauma and there are severe repercussions. There are also tough ideas to digest here: such as Meg has coming to term with her mother's refusal to negotiate with terrorists when she is kidnapped.
And maybe my students won't be finding this book in our school library…. Even so I fervently hope they find it some day and spend a day or week catching up with Meg Powers.
P.S. The terrorist is never caught. Does this mean there's a fifth coming out?
Current Location:

couch

Current Mood:

accomplished