Minerva Clark Gets a Clue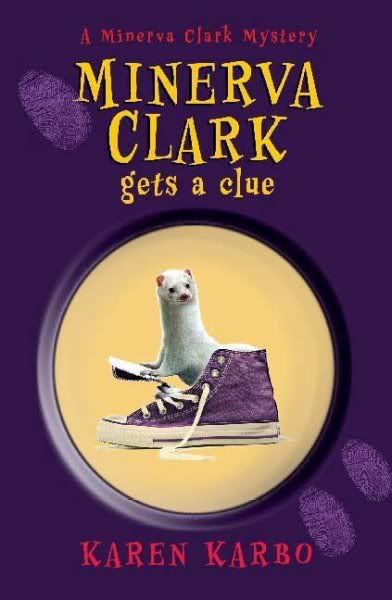 by Karen Karbo
245pp.©2006
ISBN 1582347476
When I read this gushing post about Minerva Clarke Gives up the Ghost, I just had to go and see what this book was about for myself. Alas, at the time, Brooklyn Public Library did not own the book and so I went ahead and reserved a copy of the first book from this series: Minerva Clarke Gets a Clue. And just like the blogger at Book Shelves of Doom says: How did I miss this?
Minerva is fun and sassy. She has three doting, concerned, cool (well sort of ) older brothers. Absentee parents. And she talks right to the heart of every middle school student. This is going to be a perfect booktalk and a perfect sell to those younger students who don't need to read those nitty gritty urban reality books that so many of my young readers cherish.

Minerva is like any other 7th grade girl. Self Conscious. On the worst day of her life, she falls flat on her rear end in public while attempting to play DDR (Dance Dance Revolution). She ends up getting a ride home from her cousin who's picked up by the police for a broken taillight and arrested because of an outstanding warrant, and finally on the worst day of her life, she's electrocuted.

Or is it the best day of her life? Because after Minerva is electrocuted suddenly she doesn't care that much about what others think about her. Before electrocution, Minerva worried about her fat backside, her height, her frizzy hair. After electrocution, Minerva looks into the mirror and sees perfection!

If it weren't for being electrocuted, Minerva probably wouldn't have gotten involved with the mystery of her cousin's arrest, possible identity theft, or the murder of the young book store clerk that she met on the worst day of her life. But Minerva is suddenly questioning things. Will she solve the mysteries without putting her life in danger?
Crossposted to http://cornerbooks.blogspot.com/